Investigation of endovascular air embolism as a cause of micro brain infarcts using a new model system
Scientists at Heidelberg University Hospital around Tabea Schaefer under the direction of PD Dr. Dominik Vollherbst and Prof. Dr. Martin Bendszus have developed a new model for generating and detecting highly calibrated microbubbles for arterial injection using microcatheters. Using Sensific technology, they have succeeded in generating and automatically measuring highly defined air bubbles in microfluidic systems. In an in vivo experiment, they were able to show that depending on the injection site, microinfarcts were generated in different brain regions of a rat by the air bubbles. Magnetic resonance imaging shows damage to the brain. Unfortunately, the dangers from injected air bubbles during an endovascular intervention are real and potentially life-threatening" says Tabea Schaefer. At the same time, she has high expectations for the new model: "In future studies, we expect new insights into the development and, above all, the prevention of side effects caused by air bubbles during endovascular interventions."
Click here to read the full article
We will be at Photonics West 2022 in San Francisco from January 25-27. We are very excited to be back at a conference after a nearly two-year pandemic break, meeting scientists and engineers from around the world face-to-face. Visit us at booth #3012 to discuss the latest developments and applications of ODIN and microfluidics.
Observation of drug response on single cell level
Jonas presented our new
high-speed tracking
system at the SPIE Optical Metrology 2021 and published in
SPIE Proceedings
. The
article
explains the working principle and shows the application of our technology to observe the drug response of a single cell. By continuous high-speed tracking of tracer particles with highest positional accuracy and sub-pixel resolution the impact of blebbistatin on the mechanical properties of 3T3 mouse fibroblasts is shown. Frequency analysis of the response of the tracer particles that are incorporated in the cell shows that active transport processes in the cell are inhibited by the drug. 
Cover image in Wiley's magazine VIEW
We made it on the inside cover of the december issue (4/2020) of Wiley's new high quality magazine with focus on life-science, biodiagnostics and microfluidics VIEW.
In an article in this issue, we showed with our cooperation partners of the Max-Planck-Institute some fundamental features of our technology.
ODIN is a finalist for the 2021 Wiley Science Award for outstanding new innovation!
We are very proud that a neutral jury of scientists and industry representatives has selected ODIN as one of the six candidates in the Spectroscopy and Microscopy category.
We would be very happy if you support ODIN, the innovative multifunctional tool for the lab, and us!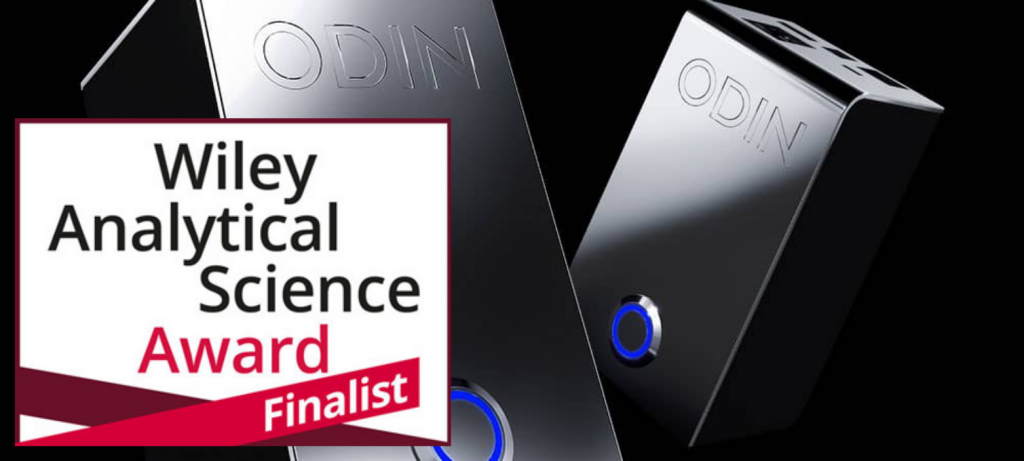 Networking at the International Cell Culture Under Flow Meeting 2020
Dr. Tobias Neckernuss presented our innovative technology at the "International Cell Culture Under Flow Meeting 2020" in Munich.
We had a lively exchange with other scientists and received a lot of great feedback on the possibilities offered by our novel sensor system for the analysis of cells in microfluidic systems.